Freezable and Reusable.
Just freeze the collapsible EcoFreeze Tote: There's gel right in the liner of the bag,

the bag IS the refrigerator.

Maintains food-safe temperatures for up to 15 hours — from cooler to curb.

Durable, reusable materials mean they don't contribute to polluting the planet.

Ideal for grocery, delivery and meal-kits.
PackIt Fresh in four easy steps:
Collapse and freeze tote until frozen solid.
Open and pack chock full of frozen or refrigerated perishables.
Close and deliver to your delighted customers.
Do it all over again — no single-use waste here!
Collapsed totes freeze overnight. Never add ice packs again.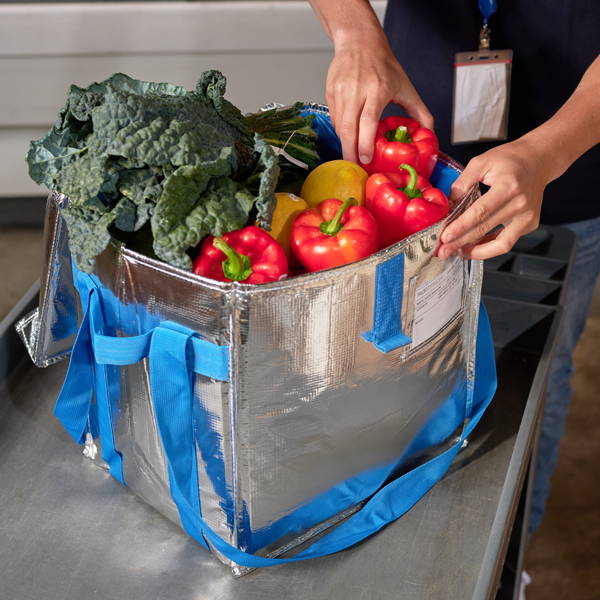 Picked items go directly into the frozen totes, providing longer staging windows, eliminating the need for refrigeration.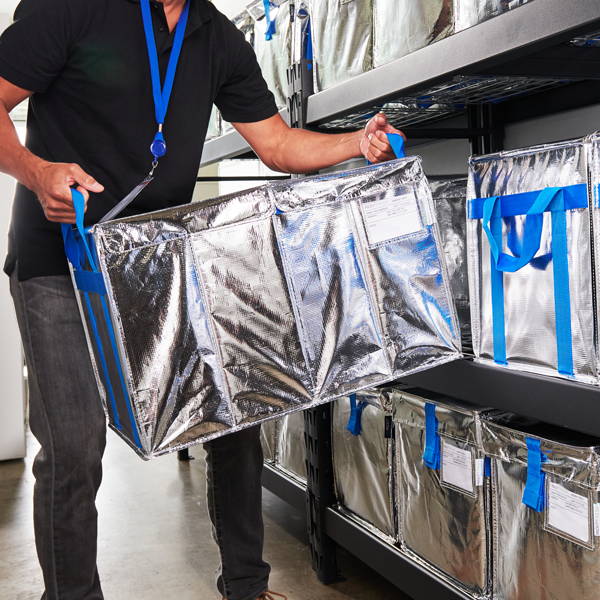 The most flexible refrigeration solution that lets you scale immediately to meet your demand. Consolidated orders improves accuracy and efficiency.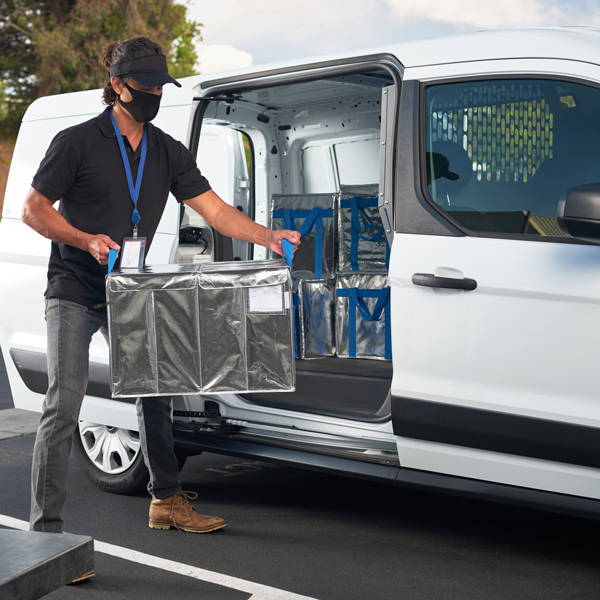 Choose curbside pick up, attended and unattended delivery methods.
Built-in Ecofreeze™ freezable gel liner

Collapses flat for easy storage in freezer

Radiant Shield™ reflective exterior ensures optimal cooling

Durable shoulder straps

Clear pocket for labels or QR codes

Tamper-evident feature

Open, hinged-lid design allows for easy top loading

Ideal for automated loading systems

No insulation needed
No ice packs needed
Capacity
23L - 6 GAL
Internal Dims Open(when frozen)
12.75"H x 12.75"W x 8.75"D
External Dims Open
13.5"H x 13.5"W x 10"D
Collapsed Dims
4.5"H x 13.5"W x 13.5"D
Elecroplated aluminum exterior

Interior PE foam insulation

Non-toxic freezable gel liner